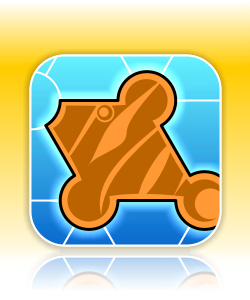 Fish Crackers Deluxe ($2.99)

v1.0, June 23, 2012
Fish Crackers ($0.99)

v1.1, June 24, 2012
Fish Crackers Lite (Free)

v1.1, June 25, 2012
Supports iCloud and Game Center.
Requirements
Compatible with iPhone, iPod touch, and iPad. Requires iOS 4.0 or later.
Fish Crackers
News
August 24, 2012: Fish Crackers Deluxe is FREE for a limited time! Selected by FreeAppMagic - 3 great free apps every day!
All News >
Introduction
One of the most advanced assembling puzzles on the App Store is here! It features 400 original puzzles with real 2D physics - move, rotate, and bump pieces as real physical objects. Puzzles are ranged from very simple with 3 pieces only, up to really hard ones with 9 pieces. Gain achievements to earn points and get to #1 place in the leaderboards.
Features
• 400 hand-crafted puzzles, more to come!
• Realistic 2D gameplay - move, turn, and bump!
• Designed for iPhone, iPod touch, and iPad.
• Play in portrait and landscape views.
• Scores: earn stars for each solved puzzle.
• Can't solve puzzles? Use hints!
• iCloud - automatic sync all your devices!
• Guest players: get your friends to play!
• Game Center achievements and leaderboards.
Coming soon
• New puzzles
• New features
What reviewers and customers are saying

★★★★★

"A fine set of puzzles, my 7th & 8th grade students would like this."


--Tom Cutrofello, The Best iPhone, iPad Puzzle Apps

★★★★★

"One of my favorite apps to "fiddle with" to give me something to enjoy."


--ExcelGeek, App Store

★★★★★

"When I'm playing I forget everything else and enjoy the puzzles."


--Gramma LM, App Store

All Reviews (25) >
Fish Crackers screenshots (click to enlarge)
Trademarks
Apple, the Apple logo, iPod touch, and iTunes are trademarks of Apple Inc.,
registered in the U.S. and other countries. iPhone is a trademark of Apple Inc.