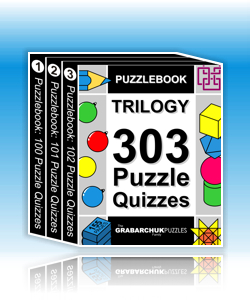 Puzzlebook Trilogy:
303 Puzzle Quizzes ($5.99)

What reviewers are saying
★★★★★
"Excellent for us seniors to keep our minds sharp."
--bunny, Amazon.com
★★★★★
"The puzzles are fun to play and the need to apply logic and visual and special skills help exercise and improve the player's mind."
--Israel Drazin, booksnthoughts.com
★★★★★
"This is a good collection to invest in."
--Stacie Wyatt, Amazon.com
All Reviews (39) >
Versions History
v1.0.3, February 28, 2012
Puzzlebook Trilogy: 303 Puzzle Quizzes
News
August 30, 2012: Puzzlebook Trilogy: 303 Puzzle Quizzes is free for a limited time! (offer ends September 3).
All News >
Introduction
Discover a trilogy of the Top Rated Puzzlebook: Puzzle Quizzes series - a compilation of three books: 100 Puzzle Quizzes, 101 Puzzle Quizzes, and 102 Puzzle Quizzes. In this puzzle collection you will find 303 pictorial, hand-crafted puzzle quizzes in different themes: logic, visual, spatial, counting, geometry, matchstick, coins, searching, and much more.
Hot News
Over 750,000 downloads for the Puzzlebook series! Discover why thousands of Kindle users are addicted to Puzzlebooks.
Novelty
All puzzle quizzes are original creations by the Grabarchuk Family and delivered exclusively for Kindle.
Interactivity
You can interactively answer and check a puzzle quiz by clicking the respective answer button. Only the correct answer leads to the solution page.
Ranking
The collection is specially created for all kinds of solvers - beginners, skillful, and expert alike. The puzzles are arranged so that you start with the easy (*) puzzles and progress to the hard (*****) puzzles.
Enjoy it in Color Too!
The book is created in full-color. Enjoy a colorful experience playing it on Kindle Fire or in a Kindle app on iOS, Android, PC, Mac, etc.
Happy Puzzling!
Trademarks
Amazon, the Amazon logo, and Kindle are trademarks of Amazon.com, Inc.